Patrick Ferraiolo wins the "Coach Bob Hawkey Achievement Award"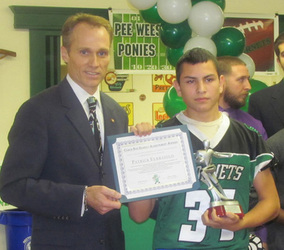 Varsity Head Coach, Bobby Hawkey presents Varsity player, Patrick Ferraiolo with the 2013 "Coach Bob Hawkey Achievement Award" . Patrick was chosen because he is an athlete who led his team through his inspirational actions, was a steady contributor to the team's success, promoted good relations through competition, made sacrifices to be a member of the team, he was respectful to the coaching staff and officials. Patrick is a credit to his team both on and off the field and best exemplifies the character and integrity of Coach Bob Hawkey.



---
---
OLD FASHIONED PEP RALLY . . .
Football Field to be named after one of Central's own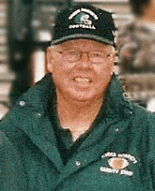 Submitted by Sharon Daly '74

When you hear mention of the name Bob Hawkey, you immediately associate it with the Valley Stream Green Hornet's Youth Football League. And rightfully so.

The late Bob Hawkey '49, was an icon in the Valley Stream community. He touched the lives of thousands of youngsters over the years. Scores of Central alumni remember Coach Hawkey well, as so many played football for him. His family has received countless kindhearted notes from around the country filled with personal memories that individuals have of Bob as their coach, their friend, their mentor. His wife, Audrey Vilar Hawkey '49 and their five children were truly fascinated by the amount of stories people shared about Bob. There were stories about his leadership, his guidance, his acts of kindness, his humor and his generosity. There were so many things Bob had done for others that his family was never aware of. Truly amazing.

Well, the Village of Valley Stream, in conjunction with the Green Hornet's Football organization and the Central High School Football Team are going to pay tribute to the memory of this exceptional guy at a special Pep-Rally being held at Firemen's Field on Friday, September 10, 2010.

The Village of Valley Stream is going to take this opportunity to name the Football Field at Firemen's Field, "THE BOB HAWKEY FOOTBALL FIELD." Bob played on that field as a "CENTRAL EAGLE" and coached on that field for 59 consecutive seasons up until his ill-timed death in December of 2009.

This Pep-Rally will be dedicated to Bob's memory and is expected to be a huge event. Hopefully many of our Central Alumni will be able to join us on September 10th at Firemen's Field. The festivities will begin at 6:30 pm.

So please mark your calendar, save the date and spread the word. Everyone is invited to join the Valley Stream Village officials, the Central Eagles, the Green Hornet Football Organization and the community at Firemen's Field for an old fashioned CENTRAL HIGH SCHOOL PEP RALLY. It promises to be a wonderful evening. Looking forward to seeing lots of Centralites there. G O E A G L E S ! ! !
---